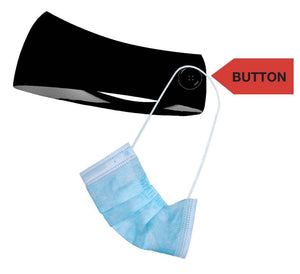 No more pain behind the ears!
Requested by medical professionals and essential workers in response to COVID-19, our anti slip headbands made from patented fabric have been modified to include a 25mm black button on each side. Just slide your face mask elastics around the buttons for a comfortable fit. No more pain behind your ears from wearing masks all day. 
Our headbands are made from stretchy, breathable material, which allows them to fit virtually every head size and shape. Fashionable enough to wear to work, our moisture wicking headbands are great to wick away sweat and in colder weather they are also great to keep ears warm, along with keeping hair back.
Headbands will absorb and evaporate sweat, are machine washable and made in the USA.
One size fits most adults

Black button on the sides

Face mask not included